The Power Of Pumpkin For Your Skin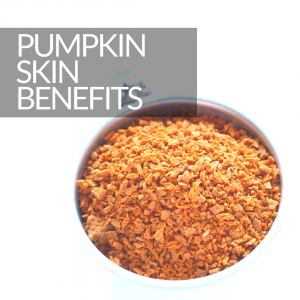 Pumpkin is not a new ingredient to skincare but the effects are just as beneficial as they have always been. Pumpkin is packed with several natural, skin-enhancing benefits. Below we'll review a few of those benefits and also share our favorite DIY pumpkin face mask recipe that you can try at home.
Pumpkin's Acids
Pumpkin contains fruit enzymes and alpha hydroxy acids (AHAs), which work wonders for the skin. These natural acids and enzymes increase cell turnover, which soften, brighten and smooth the skin. The faster our skin cells "turnover" the less dry, dull skin cells remain on the surface.
Antioxidant-Packed Pumpkin
Pumpkin contains the powerful, skin-enhancing antioxidant vitamin A and vitamin C. These antioxidants help soften and soothe the skin and boost collagen production to prevent the signs of aging. Vitamin C (ascorbic acid) is also known to brighten the skin. Some studies have shown that vitamin C may help prevent and treat ultraviolet-induced (UV) photodamage, which causes cell death and inflammatory responses.
Pumpkin Protection
Pumpkin seed oil is high in essential fatty acids, vitamin E, and zinc which are necessary to maintain good barrier function of the skin. The lipids between the skin cells called the lipid barrier, are responsible for maintaining skin hydration, firmness, and softness. This barrier helps to minimize water loss and supports strong, hydrated and healthy skin. Lipids decrease significantly each year, which is why we are prone to dry skin as we age.
Wrap Up
As you can see, pumpkin has numerous natural, skin-enhancing benefits. So why not add it to your skincare regimen this week? To help you do so, we've included our favorite, simple, DIY pumpkin face mask to try at home. Give it a try and let us know what you think in the comments below.
Pumpkin Face Mask
2 Tbs. Cooked Pumpkin
1/2 – 1 Tbs. Ground Oatmeal
Water (as needed)
Mix pumpkin and ground oatmeal until smooth.
Add a small amount of water (1/2 tsp. at a time) as needed to achieve a smooth consistency that is easily applied to the skin.
Apply mask to cleansed skin and allow to penetrate for 15-20 minutes.
Rinse with warm water, pat dry and apply serum and daily moisturizer (we recommend a daily moisturizer with SPF).
Are you looking to treat yourself or your spa guests to a decadent, fall-inspired body line? If so, visit our website for a full list of our vegan, certified cruelty-free, spa-quality bath and body products!
Available in retail and professional sizes. For wholesale pricing, contact us today!