4 Reasons To Love Rosemary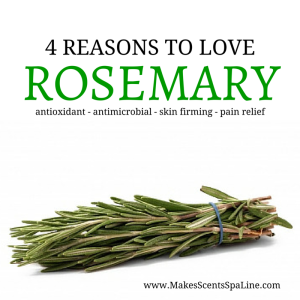 With the arrival of spring just around the corner, we start to look forward to all the fresh scents of the spring season. One of the scents that comes to mind is rosemary. Rosemary has quite a history of love, remembrance and also numerous medicinal properties. Below is a brief review of this amazing herb as well as a delicious rosemary smoothie recipe to try at home.
Rosemary Characteristics
Rosemary (Rosmarinus officinalis)  is native to the Mediterranean region and is in the same family as mint. It's a woody, perennial herb with fragrant, evergreen, needle-like leaves. It has a strong, fresh, camphor-like scent with a woody undertone.
Folklore
In the past, rosemary was associated with wedding ceremonies and thought to be a love charm. The bride was adorned with a rosemary headpiece, which symbolized fidelity, love, abiding friendship and remembrance of the life the woman had led prior to her marriage. The groom, along with wedding guests, would also wear a sprig of rosemary as a symbol of love and remembrance.
Rosemary also has a reputation for strengthening the memory. Greek scholars were even known to intertwine rosemary in their hair when studying for exams in the hope of aiding their memory.
Medicinal Benefits
Rosemary contains a number of phytochemicals, including rosmarinic acid, camphor, caffeic acid, ursolic acid, betulinic acid, and the antioxidants carnosic acid and carnosol. These phytochemicals, have been considered possible drugs for millennia.
Below is a list of four reasons why we love rosemary:
Adding Rosemary In Your Diet
We love to cook with rosemary too! Below you will find one of our favorite green smoothies recipes that contains fresh rosemary. This smoothie is packed with vitamins and health-promoting properties. Yum!
Rosemary Green Smoothie Recipe
Ingredients
1 cup water or almond milk
1 organic banana
1 cup frozen organic blueberries
1 cup organic baby spinach
1 sprig fresh rosemary, leaves removed and finely chopped
1 Tbsp agave nectar (optional)
Extras (optional)
1 tablespoon flax seeds or chia seeds
1/2 cup frozen mango chunks
1 teaspoon coconut oil
1 serving of your preferred green superfood powder
Directions
Blend all ingredients in a high speed blender for 30-45 seconds or until smooth. Enjoy!
We would love to hear from you! Do you use fresh or dried rosemary or rosemary essential oil? If so, share your favorite recipes or tips on using rosemary below.
WARNING/CAUTION
Essential Oil Specific: Avoid in epilepsy, hypertension, and while pregnant. Avoid with homeopathics.
General: As with all essential oils, never use them undiluted, in eyes or mucus membranes. Do not take internally unless working with a qualified and expert practitioner. Keep away from children. If applying an essential oil to your skin always perform a small patch test to an insensitive part of the body (after you have properly diluted the oil in an appropriate carrier. For educational purposes only. This information has not been evaluated by the Food and Drug Administration. This information is not intended to diagnose, treat, cure, or prevent any disease.