Meet Our Team of Experts

LEADERSHIP
HEATHER KREIDER, RN, LE | CO-OWNER
Heather, along with her husband Nathan, is Co-owner of Make Scents Natural Spa Line. She has 19 years of experience in the spa industry and specialized in European skincare as an esthetician. Her educational background includes a post-graduate certification in Advanced Skincare at the International Dermal Institute. She's also an RN (rehabilitation and orthopedic trauma) with a National Personal Trainers Certification.
Among Heather's favorite activities are snuggling with her husband, Nathan and their furbabies, Emma (Boxer) and BeeBee (Boston Terrier). She LOVES to garden, rock climb, and spend time on the water in her kayak. She can even roll that baby!
Heather's passion for the environment and animals extends to her lifestyle as a plant-based diet enthusiast. One of her favorite foods is Chef Oliver's vegan, West African peanut butter soup, but there really isn't a type of food that she doesn't like. She is hopelessly obsessed with British Crime Dramas, especially "Peaky Blinders." (Yes, she is indeed a sucker for English accents!)
You might be interested in knowing that Heather can take any song on the radio and instantly replace the lyrics with new, off-the-wall lyrics just to make people laugh. She can also dance to that new song like no one's business!
NATHAN KREIDER, LMT | CO-OWNER
Nathan, along with wife Heather, is Co-owner at Makes Scents Natural Spa Line. He has worked in the spa industry for 17 years as a massage therapist and is certified as a Reiki Level II practitioner. Nathan is also a real estate investor.
One of the Nathan's all-time favorite activities is snuggling with his wife Heather and their furbabies, Emma (Boxer) and BeeBee (Boston Terrier). He also enjoys getting out into the great outdoors to rock climb and kayak. Nathan also LOVES to jump out of perfectly good airplanes – with a parachute of course.
Like Heather, Nathan also follows a plant-based diet, and he's especially fond of Vietnamese food. If you ever go food shopping with him, you'll find he has a particular talent for singing out loud in the grocery store to grocery store music.
FRANKIE KIRCHGESSNER | WAREHOUSE & OPERATIONS MANAGER
Frankie makes our warehouse a place you want to be. On a good day, you'll catch him working/grooving along to his guilty pleasure: the Backstreet Boys. 
His other indulgences include pina coladas — and, of course, getting caught in the rain. He's also game to join you for a sandwich, especially if its origins are Pennsylvanian. Hoagie, anyone?
Frankie prefers to unwind by watching the news, or enjoying the riffs of his favorite keyboardist, Rick Wakeman.
He is a perfectly decent bowler.
LAURA ROSE PHILLIPS | PRODUCTION MANAGER
Our fearless Production Manager, Laura, has an affinity for adventure. In fact, she has hitchhiked across 48 states with her dachshund, Lupe! Laura loves the great outdoors—collecting plants, camping, swimming, and doing most anything else outside. She enjoys traveling and especially discovering new beers at the local breweries she visits while road-tripping.
With a knack for artistry, Laura's talents include painting, hand-stitching, and weaving. In her downtime, you might find her binge-watching addictive TV shows and listening to cheesy 80s music.
SALES TEAM
EDMOND VEREBEKE | VICE PRESIDENT OF SALES
You might call Edmond a man of the sea. He loves to sail and hang out on the beach, and learned how to do the former while attending summer camp in Maine (which is also where he developed his love for shrimp and crabcakes).
But wait– there's more.
He was a Boy Scout extraordinaire, and has earned the title of "Dog Whisperer" for his ability to win over any individual from the canine species.
He also won over his wife, Debra, with whom he enjoys watching The Bachelor and Gilmore Girls — and readily admits it. 
Skills that may have also contributed to the winning of Debra include cooking and gardening.
NEAL CAVANAUGH | SALES EXECUTIVE
Neal is not one you're likely to find sitting in place. He loves being outside with his two kids, especially hitting the trails and splashing in a nearby creek.
If he's stuck inside, he's doing mat pilates…or finally relaxing with some bourbon barrel tequila.
He love to travel, just ask his palate — among his favorite cuisines are Vietnamese, Thai, Indian, Italian, and comfort food.
Neal has had two near-death experiences that he should not have walked away from, yet here he is — watching BBC crime dramas, detailing cars, and loving life.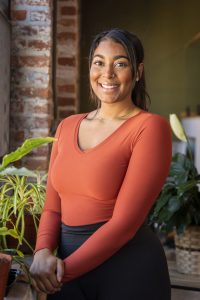 ELYSHA PIERRE | CUSTOM PROJECT COORDINATOR & SALES EXECUTIVE
Elysha lives by the golden rules of positivity and acceptance, bad vibes not welcome here.
Elysha joined the team as a Custom Project Coordinator, and most recently, Sales Executive, but this isn't her first gig with Hempfield – she has supported the wellness community by modeling products designed to help you feel and perform your best over the years.
She lives each day to fullest, experiencing all the beauty and opportunities the world has to offer. Friends and family play a vital role in her day-to-day since we only have one life, so live it up!
SUPPORT TEAM
ELIZABETH HABECKER | EXECUTIVE ASSISTANT
Elizabeth , our Executive Assistant, is our go-to-girl for just about everything around Makes Scents Natural Spa Line.
In her spare time, you'll likely find this voracious reader with her nose in a book. Elizabeth also enjoys knitting and playing the piano. While any kind of pasta dinner scores points with her, mac and cheese (the real deal, not the boxed stuff) is the way to her heart. Elizabeth shares her home and her heart with her husband, Chad.
Oh, we should warn you that she's "the jump rope queen." Care to challenge her? We wouldn't recommend it! Elizabeth aspires to one day live in a quiet and quaint small town.
PRODUCTION TEAM
DARRIAN SCHAEFFER | PRODUCTION TEAM LEADER
Darrian is a creator at work and at play. When his day helping us make the products you love is done, you're likely to find him creating art (painting is his go-to medium) and origami.
When it's time to replenish, he prefers to fill up on tacos and Skittles.
If you're in the mood for a good conversation, you'll find a willing partner in Darrian — we suggest asking him about the book he's writing.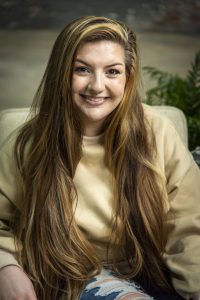 MEGAN BERNHARDT | PRODUCTION ASSISTANT
Megan thrives on creativity, a trait that serves her well as our Production Assistant. In her spare time, she loves to paint and make music on her guitar. By the way, she plays a mean harmonica, too!
Megan adores animals, particularly her mini-dachshund, Honey. She finds staying up way past her bedtime hard to resist. When hunger strikes, Megan's go-to is chicken of any kind.
BECKY MUELLER | SHIPPING & OFFICE ASSISTANT
Left to her own devices, Becky enjoys spending her time peacefully: reading, watching fixer-upper shows, taking long walks, and being with her family — especially her gorgeous granddaughter.
She's always ready to join you for some seafood or Chinese food; but if she's the chef, she's cooking up the best mac & cheese you've ever tasted.
For a great story, ask her about the time she met the real Maria von Trapp, who inspired the musical The Sound of Music.
DESIGN & MARKETING TEAM
DAWN MENTZER | COPYWRITER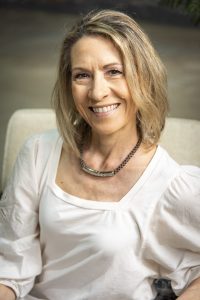 Dawn is a full-time freelance writer, and she edits and writes marketing content for Makes Scents Natural Spa Line. Besides her writing experience, she also has a product marketing/project management background in the technology industry. Dawn has a degree in Communications with a concentration in Journalism from Millersville University.
Among her favorite things to do are working out, reading, and enjoying take-out Chinese food while holding a lively conversation with her husband Shane and daughter Natalie. She also has a thing for showing her Wavemaster bag in the home gym who's boss with a few hundred jabs and crosses.
Dawn's guilty pleasure is watching "Survivor" whenever it's in season (She has never missed a season – EVER). Her generally unknown talents include a flair for choreographing bodybuilding routines, acting, and twirling batons.
ALIX TUFANO | ART DIRECTOR
Alix, our Art Director, brings our brand to life with her creativity. Her talent for making things pretty carries over into her other areas of interest, as well: interior design, landscaping, fashion, and decorating for special occasions.
When not designing our marketing materials, Alix adores spending time with those she loves. Camping with family and friends, cheering her son on at his hockey games, watching reality TV shows with her daughter, cozying up to backyard fires with her husband, and delighting her parents with surprise visits…these are all among Alix's favorite pastimes. She's also CRAZY about Halloween.
Not many people know this, but Alix set out to be a meteorologist when she went to college. Thankfully for us, she decided to follow her passion and earned an art degree with a concentration in graphic design from Millersville University. Whew!
Alix's guilty pleasure is watching "The Office"—over and over and over again. Preferably when enjoying Old Bay popcorn.