Building Strong Spa Industry Partnerships with The Spa Mart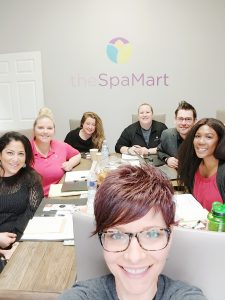 Make Scents Natural Spa Line is pleased to announce a partnership with The Spa Mart. Powered by a community of millions, The Spa Mart is a wholesale distributor exclusive to the spa, wellness and salon and spa education industries. The spa distribution company, headquartered in Georgetown, Texas, is dedicated to creating solution-driven partnerships that develop a culture of giving, gratitude and valuing people.
"We have similar business philosophies," said Make Scents Natural Spa Line owner Heather J. Kreider. "It's a partnership we absolutely love—and are proud to share the news."
Founded in May of 2017, co-founders Teddy and Tori combined their desire to help others with their inalienable entrepreneurial spirit to create The Spa Mart. Makes Scents Natural Spa Line founders Heather and Nathan Kreider share a similar story that's steeped in nearly four decades of spa industry experience. The pair brought their passion to fruition in 2010 and launched their company with the mission to create an effective and ethical natural skin care line, demonstrate environmental stewardship, maintain a supportive workplace and give back to the community.
Makes Scents Natural Spa Line is proud to offer 32 products at www.thespamart.com—including the best-selling Burly line for men which features fan favorites like Burly Buff, Burly Balm, Burly Lock Beard and Hair Oil. Balance Body Scrub, infused with orange, pink grapefruit, lavender and patchouli essential oil, and Balance Body Butter, which includes aloe vera, are consistent top performers.
Naturally superior, Makes Scents Natural Spa Line has built a firm foundation and a loyal following by continuously producing morally, ethically and sustainably responsible products—the quality of which can be seen and felt in: natural exfoliants, no artificial colors, natural scents, eco-friendly packaging, cruelty-free, vegan, 100 percent organic and 100 percent natural products.
Heather's background as a registered nurse and an aesthetician gave her an excellent education in skincare. Nathan's experience as a certified massage therapist allowed him to focus on superior skincare and gain an intricate understanding of how to enhance the spa experience.
The Spa Mart was a finalist for the 2017 American Spa "Professional's Choice Awards" and has become a valuable resource for consumers. With the mission to empower spa professionals through product, support and education, the company prides itself on three elements: being a resource for the most up-to-date brand stories and training materials for products, offering user-centered benefits like ask an expert where consumers can learn and connect with a network of spa professionals and Spa Commons—a digital shared space to cultivate ideas and share common experiences.
"The Spa Mart is a phenomenal partner. Their philosophy to help companies and individuals reach their full potential speaks to our clients who desire curated products that respect the health and wellbeing of their bodies and the planet," said Kreider. "It just makes sense."