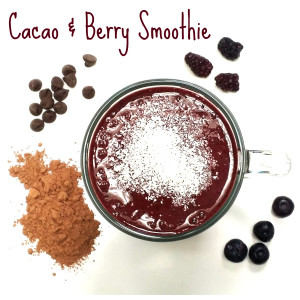 Take our word for it. This heart-healthy smoothie is pretty amazing! Chocolate and berries and it's good for your heart too? Yes and yum! Plus it's super fun to use ingredients in our smoothies that we include in our products like organic raw coconut and organic cacao powder!
Ingredients:
1 cup frozen mixed organic berries (we used organic blueberries and black berries)
1 cup organic rice milk
1 Tbs. organic cacao powder
1 Tbs. agave nectar (or honey)
Garnish with a sprinkle of organic raw coconut, chocolate chips or additional berries
Directions: Blend all ingredients in a high speed blender until smooth. Serve and enjoy!
We would love to here from you! If you have a favorite smoothie recipe, share it with us below for your chance to have your recipe featured on our blog.
And, as always, check out our website for certified cruelty-free and a variety of natural, organic and vegan body products!