Cranberries: Sour To Eat But Sweet To The Skin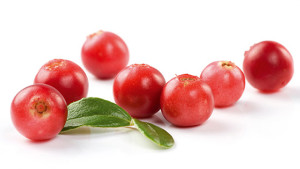 This time of year would not be the same without the sweet (well actually sour) taste of cranberries. When you dream about a dinner plate filled with warm turkey (or tofurkey for Nathan and I) what do you see placed next to it? Stuffing, mashed potatoes, green beans and of course, cranberry relish, right? However, not only do cranberries taste amazing in relish they work wonders on our skin too!
Pucker Up
As a relative of the blueberry, cranberries contain tannins (aka polyphenols) which are substances found in plants that protect them from harm. These same compounds protect our cells from oxidative damage that causes cardiovascular disease, cancer and aging skin. In other words, tannins behave as antioxidants. Tannins are the same chemicals that give unripe bananas that awful mouth-drying effect. Even though cranberries can make us pucker, they can also firm and brighten the skin as well.
Skin Benefits
There are many anti-aging properties contained in cranberries, including vitamin A and C which help to reduce fine lines and firm the skin. Cranberry seeds themselves contain the highest levels of antioxidants and polyphelols of all other berries and seeds making them the champion of fighting off free-radicals (damaged cells that cause signs of aging and cancer). So don't forget, save a few of those fresh cranberries this week to slather on your skin!
Are you looking for a simple DIY cranberry face mask to try at home? Follow this amazing anti-aging recipe which will leave your skin radiant and firm just in time for all of your seasonal gatherings!
DIY Anti-Aging Cranberry Facial Mask
1 teaspoon Plain Yogurt
1 tablespoon Honey
¼ cup of Cranberries
Blend the cranberries to a pulp.  Mix in all other ingredients thoroughly.  Apply to face and leave on for 10-15 minutes.  Rinse thoroughly and follow with a toner and moisturizer.
Do you prefer to shop for your cranberry body products? Check out Makes Scents Natural Spa Line's Cranberry & Soy Chutney Body Scrub and Cranberry Spice Body Butter. Yum!