DIY Refreshing Mint Face Mask & More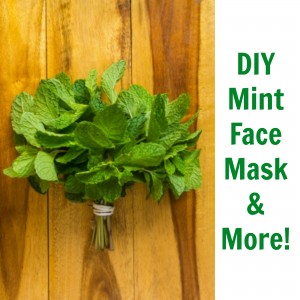 During the spring and summer months here in Pennsylvania, mint grows like weeds! One small patch in your garden quickly becomes a lush carpet of energizing minty greens. Because we seem to always have an overabundance of mint during the warm spring and summer months, we are constantly looking for new ideas to use our fresh mint from our garden. After all, you can only drink so many mojitos! Below are a few ideas for using fresh mint during your at-home skincare routine as well as in the kitchen too.
Soothing Mint Face Mask
Ingredients:
1 Tbs. Oats
2 Tbs. Milk Powder
1/2 Tbs. Honey
10-12 Mint Leaves
Cucumber (1″ piece, washed, peeled, seeded and grated)
In a bowl, add all ingredients. Muddle ingredients in mortar and pestle until all ingredients are mixed well and smooth. Apply on the face and let it set for 10 minutes.  Scrub skin gently in a circular motion. Remove mask with lukewarm water, towel dry and apply your favorite natural facial moisturizer.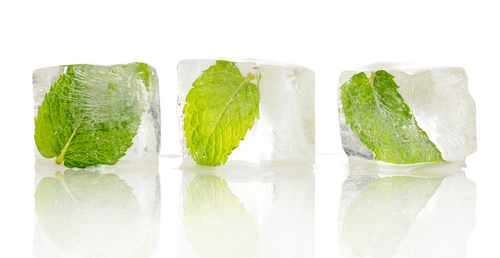 Mint Infused Cubes
Cut mint and remove the stems.
Wash leaves and dry on clean towels or in a salad spinner.
Place approximately 8-10 leaves in each section of an ice cube tray, pushing them down so they are well packed.
Cover the leaves with filtered water and freeze.
When frozen, transfer the mint cubes to a freezer bag and store in the freezer.
Uses: Frozen mint can be used to infuse into your favorite drink, water or tea (iced and hot), soups, and sauces. Add a few mint cubes along with a slice or two of lemon or lime to a jug of water for a refreshing summer-inspired drink all year round!
Fresh Rosemary Mint Lemonade
6 lemons
1?2 inch length fresh rosemary
roughly 5 leaves of fresh mint
1?2 cup organic cane juice (sugar)
5 cups water
ice
Directions
Cut and juice lemons and put juice into a pitcher.
Rinse the mint and rosemary. Gently tear apart the mint and rosemary, allowing the flavor to come alive. Place leaves in the pitcher.
Add water to the pitcher.
Fill small saucepan with the sugar and just enough water to cover the top of the sugar. Heat until sugar is dissolved.
Pour sugar water into the pitcher and add ice. Stir and enjoy!
What are your favorite ways to use fresh mint? Tell us below!
For mint infused body products, visit our website to learn more about our summer-inspired Coco Mojito Body Scrub & Body Butter!