Makes Scents Natural Spa Line Launches Skin-quenching Coco Mojito Product Line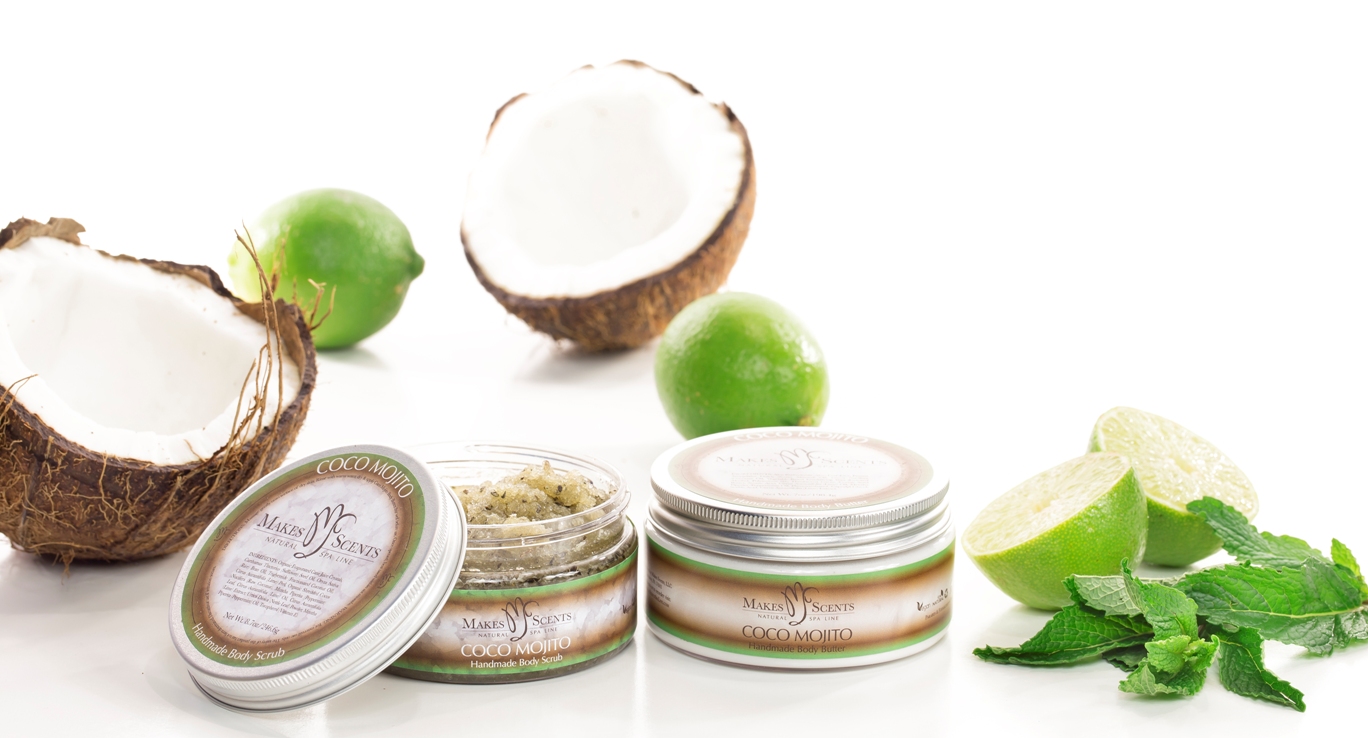 Lancaster, PA, April 7, 2015—Makes Scents Natural Spa Line, a Lancaster, PA-based creator of premium spa products, is pleased to announce the launch of its new Coco Mojito Body Scrub, Coco Mojito Body Wrap, and Coco Mojito Body Butter on April 7, 2015.
Featuring the intoxicating scents of lime, peppermint, and coconut, the new Coco Mojito line was created to evoke relaxation and rejuvenation of mind and body.
Coco Mojito Body Scrub hydrates dull, tired skin. Organic cane juice, lime peel, peppermint leaves, and organic raw coconut gently exfoliate and soften skin, leaving it silky smooth and refreshed. This all-natural scrub also has lime essential oil, which acts as an astringent to tighten and firm skin. With high levels of tocopherols and tocotrienols, Coco Mojito Body Scrub also helps slow the formation of wrinkles.
Coco Mojito Body Wrap tones and detoxifies the body. Its kaolin clay base stimulates circulation and draws impurities from the skin as aloe vera and glycerin retain moisture. Also made with pure lime essential oil and lime extract, this 100% natural wrap helps reduce hyperpigmentation while antioxidant vitamin C firms and brightens skin.
Coco Mojito Body Butter softens skin for up to 24 hours. It blends safflower oil, coconut oil, and cocoa butter to provide intensive nourishment and conditioning. Made with naturally fragrant lime and peppermint oils, it awakens the senses as it smooths skin.
"We're excited to introduce this tropical paradise-inspired line to our spa partners and fans so they can indulge in these refreshing treatments," says Makes Scents Natural Spa Line owner Heather Kreider. "We believe they'll make the perfect addition to spa menus and at-home skin care regimes this spring and summer."
For more information about Makes Scents Natural Spa Line's products or to place an order, visit www.makesscentsspaline.com. The Coco Mojito line is available in both professional and retail sizes.
About Makes Scents Natural Spa Line
Makes Scents Natural Spa Line creates premium spa products for fine salons and spas across the United States. Certified by the Leaping Bunny Program, all of Makes Scents products are cruelty-free. In addition to its own signature lines, the company crafts custom private label product lines for spas interested in enhancing their own brand image. For more information, visit www.makesscentsspaline.com, email
Info@MakesScentsSpaLine.com, or call (717) 824-3094.