Fruit & Veggie Trends in Skincare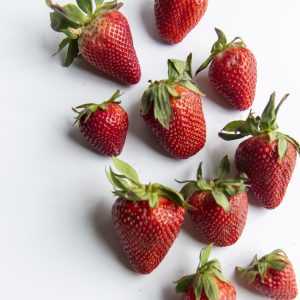 Gone are the days when skincare products with long ingredient lists are deemed superior. We used to think, the more ingredients used in a product the better it is for the skin but, time and research has proven this thought process wrong. Within the last few years, consumers are far more knowledgeable about what is beneficial for the skin and what they do not want their largest organ, the skin, to be exposed to. With the diagnosis of various types of cancer on the rise, consumers want products that are free of, or contain minimal amounts of chemicals that are known to cause cancer. So how can we protect ourselves from products laden with unnecessary chemicals?
Yummy, Edible Skincare Trends
One trend that is on the rise is using natural, food-based ingredients in skincare. According to Conde Naste Traveler, " Some of the world's top spas are incorporating food into their spa treatments—think coconut scrubs, chocolate masks, and coffee exfoliants." What now is a trend in skincare will hopefully soon be a standard in the skincare industry. Who wouldn't want a body scrub infused with real, organic strawberry puree rather than a fake, chemical-filled impostor?
The Spa at Esperanza in Baja, Mexico incorporates real crushed papaya, mango and native corn meal to soften and exfoliate the skin, while the Sorrel River Ranch Resort uses basil harvested in the resort's own garden in their Garden Glow Facial.
The Skinny on "Skinny Labels"
When looking for skincare products, check the label. Are there more ingredients on the label that you cannot pronounce than those you can pronounce? Is the ingredient list longer than the yellow brick road? According to FDA requirements, skincare ingredients are to be listed in descending order of predominance. Look for natural ingredients including plant-based oils, extracts, powders, sugars, etc. If a chemical is listed, make sure it is at the end of the list (which means the amounts are very minimal) and that the product does not include any of the top chemical offenders from the Campaign for Safe Cosmetics.
Sustainable, eco-conscientious and plant-based products are on the rise and, at times, demanded by consumers. Read labels and look for natural-based ingredients, including fruits and veggies. Read, research and educate yourself before applying unnecessary chemicals to your skin. Your body will thank you in the long run!

How do you narrow down your search for quality, natural skincare products?