Online Store Just Makes Sense for Makes Scents!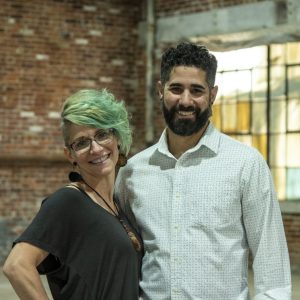 Makes Scents Natural Spa Line, founded by local entrepreneurs Heather and Nathan Kreider, announces that its line of all-natural, eco-friendly spa grade products is now available online. Previously, consumers could buy the company's products at select spas and salons.
In 2010, the Kreiders started Makes Scents Natural Spa Line as a therapeutic endeavor to help them deal with some difficult life challenges. The couple's collective 30 years of expertise and connections in the spa industry quickly transitioned the company from a heart-healing hobby to a growing, reputable brand. In addition to their own signature line of spa products, Makes Scents Natural Spa Line also custom creates private label lines for fine salons and spas across the United States.
At Make Scents Natural Spa Line, the Kreiders use eco-friendly, sustainable, plant-based ingredients – which are free from animal testing – in everything that they make. They blend combinations of superior natural exfoliants, natural colorants, natural scents, and other natural ingredients in small batches to ensure consistency and exceptional quality.
"Not only do we want to create exquisite products, but we're very environmentally conscious, too," explains Heather Kreider. "We package our spa products in containers that are 100% recyclable. Even our marketing and shipping supplies are printed on recycled paper and printed with an earth-friendly inkless digital printer to reduce waste."
In addition to their products' availability for purchase at spas and salons, the Kreiders have opened an online store on their website, www.makesscentsspaline.com, where consumers can go to order from their line of scrubs, body butters, shampoos, conditioners, body washes, perfumes, and more. Make Scents Natural Spa Line accepts orders from anywhere and ships to anywhere within the United States. Local consumers, by checking off a box on the online order form, can avoid shipping and handling fees by picking up their order at the Make Scents Natural Spa Line production facility at 324 First Street in Lancaster.
"We wanted to make our products more accessible. Not everyone visits a spa regularly, so we knew we needed to find a more convenient way for people to buy and enjoy what we put so much pride in creating," shares Kreider. "And we especially want to accommodate our friends and neighbors here in our Lancaster community."
For more information about Makes Scents Natural Spa Line or ordering their spa and salon products, call them at (717) 824-3094, email them at Info@MakesScentsSpaLine.com or visit their website at www.makesscentsspaline.com.
About Makes Scents Natural Spa Line
Makes Scents Natural Spa Line creates premium spa products made with high-quality combinations of all-natural ingredients to slough away dead skin cells and environmental toxins, and to purify, tone and hydrate. In addition to its own branded products, the Lancaster, PA company also custom creates signature lines for fine salons and spas across the United States. For more information, visit www.makesscentsspaline.com, email Info@MakesScentsSpaLine.com, or call (717) 824-3094.