Take Time to Stop and Smell the Lavender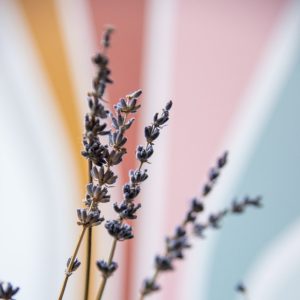 As the new year rounds the corner, many health-related resolutions are made in hopes to jump-start new healthy eating, exercise or stress-reducing plans. However, many of these whole-hearted resolutions are pushed aside as life's hectic race on the road of life takes over. This year, why not start with simple ways to meet those goals? Start small in 2013 and make time to stop and smell the lavender! We did and actually learned so much about this beautiful, stress-reducing, "Swiss Army knife" of herbs.
History of Lavender
Lavandula (common name Lavender) is a genus of 39 species of flowering plants in the mint family. It is native to southern Europe across to northern and eastern Africa, the Mediterranean, southwest Asia to southeast India. Lavender has a vast history including use during the mummification process in Egypt to the healing of wounds of Roman soldiers. It has been used by young ladies who wore little lavender bags in their cleavage to lure suitors and to calm the tremblings of the heart. The Phoenicians used lavender in bathing, perfumed oils, cooking and to freshen the air while during the Great Plague in London in the 17th century, lavender bunches were tied to each wrist to protect against infection (Aura Cacia).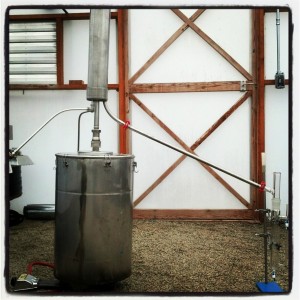 Lavender Distillation Process
Distilling has been around for thousands of years, particularly in the production of alcoholic beverages. However, the process used for distilling essential oils includes water vapor and is therefore called steam distillation.  According to Troy Jochems, co-owner at Hope Hill Lavender Farms, Pottsville, PA, lavender essential oil is created through a steam distillation process where steam is passed through plant material (lavender flowers) and then cooled. At that time, pure lavender oil floats on top of the water which is then is separated. Sounds so simple, right? Then why is pure lavender essential so expensive?
According to Wendy Jochems, co-owner at Hope Hill Lavender Farm, " Our 10-gallon still takes 5-6 plants to fill.  The flowers are then steam distilled to produce approximately 4-5 ounces of lavender essential oil." Basically, the lavender distillation process is nothing close to simple. At Hope Hill Lavender Farm, they harvest their organic lavender by hand in the peak of the day's heat only to get four or five ounces of essential oil per a few plants. Now we understand why pure lavender oil is so pricey!
Lavender Uses & Benefits
You name it, lavender can do it, or so it seems. You can cook with it (see recipe below), clean with it, calm yourself with it and even grow your hair back with it. I guess that is why it is known as the "Swiss Army knife" of herbs.  According to the University of Maryland Medical Center (UMMC), scientific evidence shows that lavender essential oil may "slow the activity of the nervous system, improve sleep quality, promote relaxation, and lift mood in people suffering from sleep disorders." The UMMC Center for Inntegrative Medicine also noted several small studies suggest that lavender aromatherapy may also help reduce agitation in patients with dementia. In another study of 86 people with alopecia areata (an autoimmune disease that causes hair to fall out, often in patches), those who massaged their scalps with lavender daily for 7 months experienced significant hair regrowth compared to those who massaged their scalps without the essential oils. Naturally amazing!
For centuries, aromatherapists have also used lavender in inhalation therapy to treat headaches, nervous disorders, and exhaustion. Herbalists treat skin ailments, such as fungal infections (like candidiasis), wounds, eczema, and acne, with lavender oil. It is also used in healing baths for joint and muscle pain. One study found that lavender oil may improve pain control after surgery. Fifty patients undergoing breast biopsy surgery received either oxygen supplemented with lavender oil or oxygen alone. Patients in the lavender group reported better pain control than patients in the control group (UMMC).
Stop and Smell the Lavender
As the new year begins and you are planning your new resolutions, don't forget to stop and take time to smell the lavender. Enjoy all the little things in life. Smile often. Try to learn a little something new everyday and share your knowledge with the world. Inspire others to be their best by trying to be your best. Encourage others. Hug someone you don't know. Be positive. Makes 2013 your best year yet!
For more information on pure lavender products visit Makes Scents Natural Spa Line or Hope Hill Lavender Farm.
Hope Hill Lavender Farm Culinary Lavender Recipe
Lavender Sugar Cookies
Ingredients:
½ cup shortening
½ cup butter, softened
1-1/4 cups sugar
2 eggs
1 teaspoon vanilla extract
2-1/4 cups all purpose flour
4 teaspoons dried Hope Hill Lavender Farm flowers
1 teaspoon baking powder
½ teaspoon salt
Optional addition: White chocolate chips 1 – 2 cups per batch.
Directions:
In a large bowl, cream the shortening, butter and sugar until light and fluffy. Add eggs, one at a time, beating well after each addition. Beat in extracts. Combine the flour, lavender, baking powder and salt; gradually add to creamed mixture and mix well.
Drop by round teaspoonfuls 2 in. apart onto baking sheets lightly coated with cooking spray.Bake at 375° for 8 – 10 minutes or until golden brown. Cool for 2 minutes before removing to wire racks. Store in an airtight container. Recommend test your oven. I cook for 5 minutes to keep cookies soft.