Top 3 Antioxidants in Skincare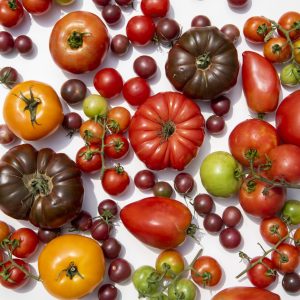 Every day, we hear the word "antioxidants." It's used abundantly in advertising for food, vitamin supplements, and skincare products. Antioxidants this, antioxidants that…so what's the big deal? Do these microscopic do-gooders actually provide the fantastic benefits everyone claims they do?
Let's take a closer look at antioxidants to understand their role in health and how they work.
The Science of Antioxidants
According to the National Center for Complementary and Integrative Health, "Antioxidants are man-made or natural substances that may prevent or delay some types of cell damage." They are most known for fighting damage caused by free radicals, cell-destructing byproducts triggered by stressors on the body (such as pollutants, sunlight, stress, smoking, excessive alcohol consumption, etc.). 
If left untreated, free radicals damage healthy cells, break down collagen, and speed up aging. They can even contribute to skin cancer, heart disease, and other conditions. 
Many foods, like fruits, vegetables, nuts, and grains, contain free radical-fighting antioxidants. Also, many dietary supplements have antioxidant ingredients. 
Examples of antioxidants include:
Vitamin C

Vitamin E

Selenium

Beta carotene

Alpha lipoic acid

Coenzyme Q10

Retinoic acid

Flavonoids

Vitamin B
What Do Antioxidants Do in Skincare?
Antioxidants help protect the skin from oxidative damage caused by free radicals. When applied topically, antioxidants can prevent signs of aging. 
But which antioxidants work best for the skin? 
Best Antioxidants for Skin Health
We've listed below the top three skin-enhancing antioxidants for softer, smoother, and more glowing skin.
1. Vitamin A
Topical retinols, a common form of vitamin A, have been found to reduce the signs of aging significantly. Retinols are used to treat fine wrinkles, skin roughness, and mottled hyperpigmentation caused by aging and sun exposure.
2. Vitamin C
Vitamin C is a powerful antioxidant and a required component for collagen production. It has been shown to help slow the production of hyperpigmentation (age spots) while also providing mild UV protection.
3. Vitamin E
According to the American Association of Dermatology, tocopherol (a.k.a. vitamin E) "protects cell membranes and is thought to play an important role in skin aging because of its antioxidant properties." Using topical products with vitamin E before sun exposure can help reduce skin damage.
Give Your Skin the Good Stuff!
Are you looking for a natural body care line that utilizes natural antioxidants in fruits, vegetables, nuts, and grains? Take a moment to visit our online store to learn more about our vegan scrubs and body butters! And if you're in the Lancaster, PA area, stop by to see us, try out some free samples, and purchase your favorite formulations in person.