Yummy & Healthy Cool Summer Treats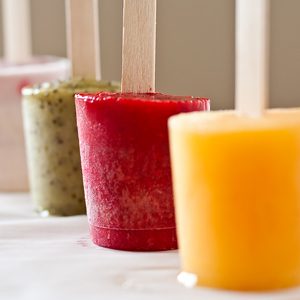 The thing that's both wonderful and terrible about summer is how incredibly hot it gets. And while lounging in the sun with a hot book and a cold drink can be pretty relaxing, ice can only cool you off so much. So if you're looking for a different kind of refreshing, healthy, and filling treat, there's nothing quite like a popsicle: the perfect summer snack.
Below are five tasty homemade popsicles that look and sound pretty fancy, but are surprisingly easy to put together: just blend, pour, freeze, and enjoy!
Chocolate Peanut Butter Banana Pops
Ingredients:
4 bananas
1 cup sweetened milk or dark chocolate morsels
4 oz natural peanut butter
1/2 cup chopped hazelnuts
8 wooden skewers
1 sheet of wax paper or aluminum foil
Instructions:
Peel all the bananas. Make sure to remove the stringy leftovers of the peel, and cut them in half crosswise. Freeze them for roughly two hours or just leave them overnight. Once frozen, gently skewer each banana.
Bring some water to boil in a pot. Place the chocolate and peanut butter into a glass or metal bowl, put it on the opening of the pot of boiling water, and stir the mixture continually as it melts. This process is known as "double boiling." Once the chocolate is completely melted, remove it from the heat.
Dip each banana in the chocolate mixture and cover as much of the banana as possible.
Lay each peanut butter- and chocolate-covered banana on the sheet of wax paper or tinfoil and put them in the freezer until completely frozen.
Lemonade Cucumber Spa Pops
Ingredients:
1 cup julienned seedless cucumber
1 fresh squeezed lemon (remove any seeds)
2 cups cold water
Natural sweetener, added to taste: use your favorite such as Stevia, maple syrup, honey, or agave
Popsicle molds
Instructions:
Slice lemon in half and squeeze it over a strainer into 2 cups of cold water. Sweeten lemon water to taste with your favorite sweetener.
Fill popsicle molds 2/3 with lemonade. Freeze uncovered for about 1 hour. Take pops out of freezer. Scrape and stir any ice crystals that have formed.
Add a spoonful of the julienned cucumber to the pop molds. Be sure to leave a tiny bit of room at the top of your mold so they don't overflow when you add the stick.
With a popsicle stick or a butter knife, press the cucumber into the mixture so it is evenly distributed.
Add your popsicle sticks, freeze pops for another 3-4 hours until solid.
Strawberry Peach Pops
Ingredients:
3 cups fresh strawberries
3 whole peaches
2 cups lemonade
Popsicle molds
Instructions:
Remove the stems from the strawberries and cut into small chunks.
Remove the pits and skin from peaches and cut into small chunks.
Combine the lemonade and most of the peaches and strawberries in a blender. Reserve a few of the fruit chunks whole for later.
Blend the mixture until it achieves a smooth consistency.
Fill popsicle molds with the blended fruit mixture and a few chunks of the fruits.
Freeze molds for several hours, until completely frozen.
Pomegranate Swirl Pops
Ingredients:
8 oz pomegranate juice
1/2 cup plain 2% Greek yogurt
Popsicle molds
Instructions:
Fill two-thirds of each ice-pop mold with pomegranate juice.
Add enough yogurt to fill the molds to the top, about 2 tablespoons per mold.
Slide a knife or chopstick into each mold and swirl until a pattern forms.
Insert sticks and freeze for about 8 hours, until completely frozen.
Guest blog written by Jenna E. Dutton, BA English Literature, English Communications
For information on our spa products which are made with natural ingredients such as pomegranate seed, lemon peel and real cocoa powder, please visit our Makes Scents Natural Spa Line website.