Chai to Resist a Fall Exfoliation!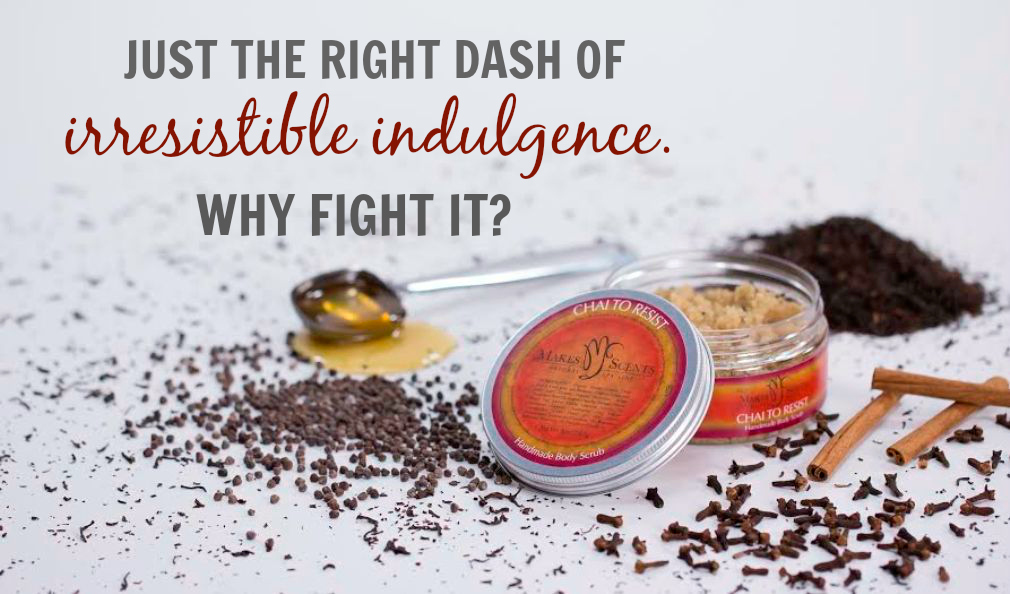 Fall is upon us and both of these products are just what a skincare esthetician would prescribe going into the fall and winter season.
I was given this body scrub to try out and it turned out to be the right 'necessity' and very apropos for the season. It's time for an exfoliation!
On the List
On the ingredients list, the first ones listed are a blend of sweeteners including organic honey, cane sugar and molasses. I would never have imagined using sugars but from what estheticians tell me, it's the best thing to naturally exfoliate and prepare your epidermis for the winter season. I now understand that sugar is a natural source of glycolic acid, an alphy hydroxy acid which are good for breaking down and removing dry, dead skin cells. The honey crystals and honey are good topical antiseptics and contain antibacterial and antiviral properties. Honey is also packed full of antioxidants to protect and help repair skin damage. The third benefit is that it has humectant qualities that draw moisture to the skin. What is left after this is treatment is softer skin. No wonder honey bees are so important in our eco-system. Honey is a perfect food and great for the skin too!
This blended scrub has no synthetic  exfoliants thanks to the organic honey and organic sugar crystals. When using a natural product such as this, the oils used in this natural handmade scrub make it really rich. So your full attention is needed so that you don't get all the oils on your tub rather than your skin. Take your time and use a wooden spatula to slowly stir this formula and apply small amounts to the area to be scrubbed, ideally for body use and preferably not your face. Slowly apply and work into a circular motion for maximum effect. You might want to take the time to allow the crystals to 'melt' onto your skin. When you are done, remove the mixture with a damp wash cloth or by running warm water over the area. Your skin will feel smooth and sleek to the touch!
After the wonderful exfoliation you might want to consider a 'body butter.' During the summer you may want to use a lotion or maybe a creme but in preparation for winter or during cold and dry weather you will need a body butter such as this. You should check out the label for the ingredients: it states that it's a "chai-inspired" rich whipped (love that word!) body butter which contains sweet almond oil, coconut oil and cocoa butter all mixed together for a rich body moisturizer. I enjoy the words such as cream, humectant and butter for this formula. It's sounds rich and indulgent and it turned out to be so. This formula contains cinnamon, clove eucalyptus, lemon and rosemary making it the perfect compliment to the scrub. This duo should be done together as a protocol, a ritual, perhaps like a weekend getaway for restoring  the natural glow of your skin!
I would recommend using this dynamic duo as the fall season is upon us and the winter season approaches. Make sure you have relaxing music playing (ever so quietly), candles burning and the aromatherapy wafting from the open jar of
Makes Scents Natural Spa Line
products while reading a chapter from a good book. I would also like to suggest pairing all the aromas together for a 'letting go' atmosphere. Spices and chai or sweet and vanilla warm for a fall or winter touch. Then  your ready for some 'me' time by taking care of the largest organ of your body – your skin. Great products – go ahead and try them, I did and gave these products a
Five Hot Stone
rating!
——–
@MarktheSpaman lives in Dallas and works freelance in digital marketing in the spa, skincare and wellness industries. Mark's quest and passion for spa and wellness began years ago when he worked with the Upledger Institute in South Florida as an educational representative providing Complimentary and Integrative Medicine curriculum for body and therapy workers. One of his favorite work assignments was the introduction of the Thai herbal ball/compress to the spa market at Sa-wan.com. Mark can be found on Social Media as @MarktheSpaman and real time in Dallas, Texas, always promoting health, spa and it's wellness components. 
"Five Hot Stones" is a rating system devised by @MarktheSpaman to indicate something special, worth going to and something of substance (Five Hot Stones) or (One Hot Stone) to stay away from.