Creating Memories at the 2014 ISPA Conference & Expo
"Life is not just the passing of time. Life is the collection of experiences and their intensity." – Jim Rohn
Can you believe a week has already passed since the International Spa Association Conference & Expo came to an end? Those few short days went by so quickly, but what we experienced will live on in our hearts and minds forever. Our time at ISPA was such a wonderful experience, and all that we learned and were exposed to during those few days will continue to shape our business and its philosophies long into the future.

Building Relationships
As a new exhibitor at the expo, we weren't quite sure what to expect. Once there, however, we very quickly knew we were right where we wanted—and needed—to be. During the event, we had the opportunity to visit with long-time friends and connect with spa partners who we before only had the opportunity to talk with over the phone. It was so nice to finally put faces to the voices and names of those who are a part of our Makes Scents Natural Spa Line family. Building long-lasting partnerships and really getting to know our spa managers, directors, and spa team are important to us as individuals and as a company. After all, building connections, especially in the treatment room, is what the spa industry is about. And we feel those caring relationships should extend to the other side of the treatment table as well—in how we serve our spa partners. Attending the ISPA Conference & Expo enabled us to demonstrate that face to face.
During our time on and off the expo floor, we were able to make amazing new connections, too. We were excited to share our passion for our company, why our business came to be, and the pride we have for our products and our team's 60 years of spa industry experience.
Endless Education
Beyond the opportunity to meet and greet, we were also impressed with the education provided at the conference. We had the opportunity to attend classes, such as "Fierce Loyalty" with Sarah Robinson and "From Great to World-Class" by Dr. Bryan Williams, where we were reminded to love and respect our community of spa partners and to aspire to providing the ultimate service experience everyday. The quality of education provided was top of the line, and what we learned will continue to influence how we do business.
Inspiration to Create
Lastly, the conference and expo motivated us to continue to create exceptional products, grow our business, and make a positive impact in our local community and throughout the world. I must say, hearing first-hand guest speaker Jewel's life experiences and the obstacles she overcame reminded me to never give up on our dreams. Even though life sometimes throws obstacles in our paths, those obstacles only make us stronger. When life hands you lemons, make spa products out of them!
During one of the conference's general sessions, we were beyond honored to congratulate Jane Iredale as the recipient of the ISPA Visionary Award. As Jane told her story of the early stages of her business, creating her very first product in her kitchen, wanting to help enhance the lives of women while finding a source of personal healing, I was overcome with emotions. Her story touched me very deeply because we share a similar experience in starting our businesses. I cannot overstate how inspirational Jane is to me personally and to our company as well. Her compassion, enthusiasm for empowering others, and her spirit of support rather than competitiveness, sets an example of what a true business leader is all about.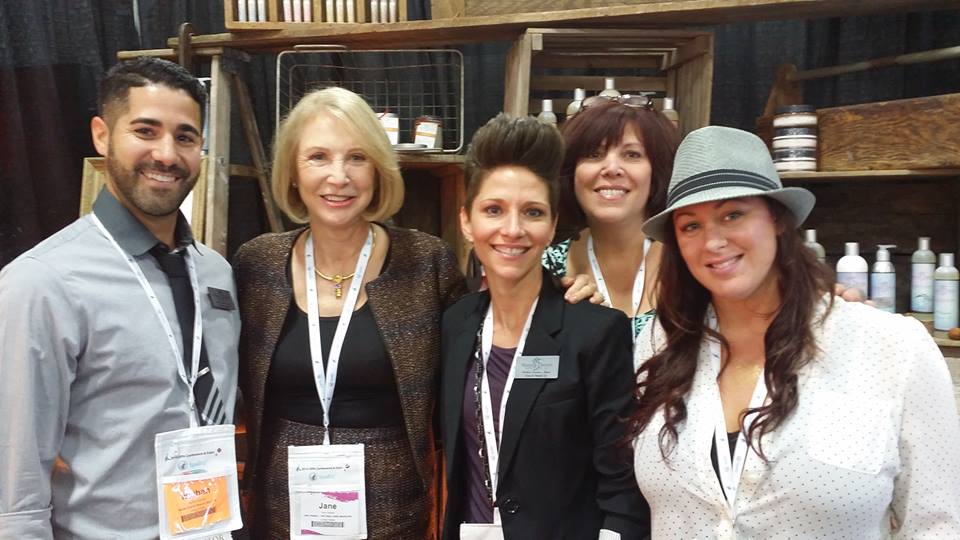 As the afternoon went by, we noticed Jane was on the expo floor chatting with her team and visitors to her booth. Nathan, my husband and business partner, knew how inspired I was by her so he whisked me away to see if we could meet her. There she stood at her booth, as eloquent and encouraging as ever. We stood there for a few minutes waiting ever so patiently to meet her. She turned to us and immediately tears welled up in my eyes. I expressed how grateful I was to hear her story and how happy I was to be there to help honor her as the ISPA Visionary Award recipient. I had the opportunity to share a little with her about our story and how Makes Scents Natural Spa Line came to be. I told her how inspiring she was to me personally, how much I looked up to her, and how I admire all that she has accomplished. By the time we parted ways, we all had a few tears in our eyes, happy tears that is. Later that day, as promised, Jane stopped by our booth to learn more about our company and our products. It was such an honor for our team to meet her. It was a day we will never forget. We left the expo floor that day inspired by her beautiful personality and warm heart.
As our plane took off from Las Vegas headed back to PA, I thought about all the experiences we had, all the knowledge we gained, the connections we made, and the opportunities that lie before us. We left ISPA with full hearts and minds. As a company, and personally, we know we are on the right path. We love what we do. We love why we do it. And we love sharing that joy with you through our partnerships and our products.
We can't wait until next year's ISPA Conference and Expo for another amazing experience!
Heather, Nathan & the Makes Scents Team