Last-Minute Gift Ideas for the 2020 Holiday Season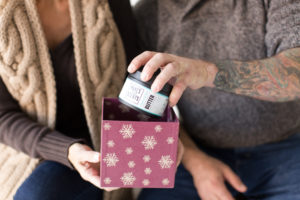 The holiday season is just around the bend. If you're like the estimated 50 percent of Americans (per a survey by Hilton) who admit to putting off their shopping until the last month (40 percent procrastinate until the last week), you may be feeling a little overwhelmed. Well, we can't have that! So, we're here to come to the rescue with some last-minute gift ideas that your special people will love.
Perfect Spa Product Gift Ideas to Eliminate the Stress of Last-Minute Shopping
1. Box O' Goodies Collection
It doesn't get any easier than this to tailor gifts for friends and family who deserve a little pampering!
Our Box O' Goodies Collection contains a full-size jar of body scrub and a full-size jar of body butter of your choice. With more than 15 cruelty-free, vegan formulations of butters and scrubs to choose from, you can customize your gifts to each individual on your list. Pre-wrapped and ready for giving, this collection is an ideal way to show you care.
2. Box O' Goodies Sampler
To infuse some variety into your gifts, consider our Box O' Goodies Sampler. It contains two sample-size body butter jars and two sample-size body scrubs of your choice. With an array of body butter and scrub options, you can mix and match to make this gift a perfect fit for anyone on your list.
3. Home for the Holiday's Gift Basket
This festively adorned gift basket features a full-size jar of one of our holiday-inspired body scrub products (Cranberry & Soy, Peppermint Swirl, or Spiced Orange Cider) and a full-size jar of one of our seasonal body butter products (Cranberry Spice, Peppermint Swirl, or Spiced Orange Cider). This assortment's comforting scents and skin-soothing ingredients will make their holidays merry and bright!
4. Wooden-wick Soy Candles
Who doesn't love the ambiance of candlelight on cold winter's night? Our clean burning soy candles have aromatic scents that soothe the senses and wooden wicks that crackle like an open fire. Might we suggest our Chocolate Decadence, Java Junkie, and Pumpkin Spice scents for the season?
5. Budget-friendly Stocking Stuffers
And if you're searching for just a little something to stuff your family's stockings, look no further! We have you covered:
Luscious lip balm – Paraben-free and made with all-natural ingredients; available in five lip-smacking varieties (including Peppermint Swirl).
Essential oil blends – Carefully formulated with pure, high-quality essential oils; 10 varieties to choose from; seasonal favorites include Fir Needle, Eucalyptus, and Peppermint.
Body butter samplers – 2 oz. jars of our body butter; great picks for the holidays: Spiced Orange Cider, Pumpkin Mousse, Peppermint Swirl, Chai to Resist, Cranberry Spice – many other selections available!
There's No Time Like the "Present" – Order Today!
Breathe in a sigh of relief as you check off the remaining gifts from your holiday giving list. Plus, get 20 percent off purchases of our gift collections (Box O' Goodies and Holiday Gift Basket) from Friday, December 18 through Monday, December 21, 2020, when using code gift2020 at checkout.
We wish you all a happy, healthy, and wholly wonderful holiday season!
Source:
Hilton. "Hilton Honors Research Shows More Than 50 Percent of Americans Are Last Minute Holiday Shoppers." Hilton, Hilton Brand Communications, 13 December 2018, https://newsroom.hilton.com/hilton-honors/news/hilton-honors-research-shows-more-than-50-percent-of-americans-are-last-minute-holiday-shoppers. Accessed 7 December 2020.