POPPY'S 1ST ANNUAL GROUNDHOG DAY SCAVENGER HUNT EVENT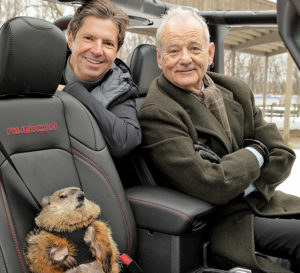 Have you heard of the famous marmot, Poppy the Groundhog? If not, you're missing out! Little miss Poppy is a rehabilitated groundhog that unfortunately could not be released back into the wild due to her genetic condition. Poppy grew in her stardom, when Jeep asked her to be in their 2020 Super Bowl ad with, none other than Bill Murray! If you're a fan of Groundhog Day, it's a must-see commercial. Check it out here.
Since then, Poppy has continued to live the good life and raise awareness for wildlife rehabilitation, alongside her caregiver and "mom," Betsy. Poppy and Betsy head up Acorn Acres Wildlife Rehabilitation right here in Lancaster where they care for injured bunnies, squirrels and groundhogs. They're a place that our community can turn to when we have wildlife injury needs.
HOW YOU CAN PARTICIPATE ON GROUNDHOG DAY
Beginning Tuesday, February 2, 2021 (Groundhog Day) Acorn Acres Wildlife Rehabilitation is inviting our community and followers to participate in "Poppy's 1st Annual Groundhog Day Scavenger Hunt Event" by purchasing the Poppy related products at participating local businesses. Due to COVID (to provide social distancing) and the fact that groundhogs need to be celebrated for more than 1 day a year, we are running this event through 10pm on Saturday, February 6, 2021.
Then on February 2 at 11am #PoppytheGroundhog will make her FB Live official prognostication on Acorn Acres Wildlife Rehabilitation page. Following her prognostication at Betsy will do a Live Q&A starting at 11:00 am EST. This will be a live educational event with Poppy where you or your children will be able to ask questions and learn all about Poppy and all her groundhog friends. Later in the afternoon, Poppy will be doing random unannounced "Poppy Pop-Ups" at all of the partnering downtown business locations.
With each Poppy related item purchased you will receive a voucher. Then on Sunday, February 7th Poppy herself will select a voucher (live on FB – time 11am). The selected voucher owner will receive a Groundhog Day basket with related goodies.
Details of each partnering business along with the item(s) featured are listed on the Acorn Acres Wildlife Rehabilitation website.
Together with AAWR, we are thrilled to partner with our local small business friends to bring you a fun, socially-distanced way of celebrating one of Pennsylvania's most popular days; Groundhog Day!
POPPY'S GARDEN PACK
We know how much Poppy the Groundhog loves to snack. So we've designed "Poppy's Garden Pack", because Poppy loves greens and fresh flowers on her daily seasonally-appropriate walks in the garden. "Poppy's Garden Pack" will include Garden of Eden Body Scrub (Net Wt. 3.0 oz.) and Oatmeal Vanilla Body Butter (Net Wt. 1.8 oz.) and will be packaged in a reusable canvas tote with a custom Poppy tag. Also, little known fact is that during the winter Poppy has some dry skin and is treated to an oatmeal bath!
Plus 40% of all sales from our Poppy's Garden Packs will be donated to Acorn Acres Wildlife Rehabilitation, a local non-profit that specializes in rehabilitating squirrels, bunnies, and woodchucks; making sure they get a second chance, too.
To pre-purchase your Poppy's Garden Packs and pick up at our Lancaster location the week of February 2, 2021, visit the link here.
PLUS 40% OF ALL POPPY'S GARDEN PACKS SOLD WILL BE DONATED TO ACORN ACRES WILDLIFE REHABILITATION.
PLUS CHECK OUT OUR SISTER-BRAND, HEMPFIELD BOTANICALS, TO LEARN ABOUT THE RELAX WITH POPPY PACK!