Men's Skin, Hair, and Beard Care Tips: Guys Need TLC, Too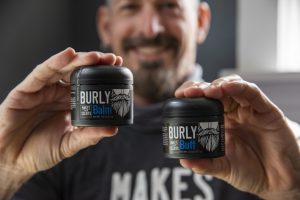 June — a.k.a. Men's Health Month — has arrived! It's an ideal time for a reminder that men's skin, hair, and beard care practices often reflect how attentive guys are to their overall well-being. Busy work schedules, endless tasks around the house, and family responsibilities may leave minimal time for self-care. So, what tips can help men look and feel their most confident selves? We have some helpful suggestions!
Men's Self-Care 101
1. Use common sense. 
While the following general men's health tips may seem like obvious best wellness practices, they're worth stating because guys might put them on the back burner amid other priorities. All three are important for laying the foundation for healthy skin, hair, and beards.
Catch Enough Zzzs

—

A good night's sleep helps ensure the release of hormones and enzymes and facilitates the protein synthesis required for good hair health. Also, sleep helps promote collagen production and blood flow, which are essential for healthy, glowing skin.

Eat Like a Champ

—

Just like all other parts of the body, to be in top form, skin, hair, and beards require essential vitamins, minerals, healthy fats, and other nutrients. Aim to minimize processed foods and maximize consumption of vitamin-rich vegetables, lean protein, antioxidant fruits, and sources of omega-3 fatty acids like avocados, almonds, and salmon.

Ax Unhealthy Habits

— Some "hair raising" habits that can put hair and beards at a disadvantage include smoking, drinking too much alcohol and caffeine, and other bad habits.
2. Choose the right cleansing products.
For hair, select a shampoo that's right for your type of hair and scalp condition (i.e., oily, normal, dry). For beards, consider a special shampoo for facial hair that removes oil, dirt, germs, and dead skin cells. For your face, find a gentle, non-comedogenic cleanser suitable for your skin type. Typically, skin on the body isn't as sensitive as on the face, but still choose products carefully to avoid dryness and irritation. Look for body washes and cleansers without harsh chemicals or artificial colors or fragrances. 
3. Don't sidestep exfoliation. 
Exfoliating removes dead skin cells that make skin look dull and dry and stimulates new skin growth. It also enables skin to absorb moisturizing products more effectively. 
Facial exfoliation facilitates beard growth by removing dead skin that might be preventing hair from breaking through the skin's surface. Typically, the best time to use a facial exfoliant is before shaving or trimming your beard so dead skin cells won't clog your razor and prevent a close shave. 
Choose exfoliants made for the job you need them to do. Facial skin requires a gentler product than the rest of the body, so opt for an exfoliant specifically made for faces. For the body, consider a formulation that uses an all-natural exfoliating ingredient like organic sugar in combination with detoxifying, analgesic essential oils that remove impurities and soothe muscle soreness while rejuvenating skin.
How often should you exfoliate? It depends on how oily or sensitive your skin is and how abrasive a product you're using. Generally, experts recommend exfoliation two to three times per week (less often if your skin becomes irritated easily).
4. Moisturize and condition.
After exfoliation, lock in hydration and smooth skin with a moisturizing product. Keep in mind that body butter, which usually has a thicker consistency and more emollient ingredients than lotions, delivers more intensive results and protects skin longer.  
For hair and beards, consider using a nourishing beard and hair oil to soften and condition hair. A little goes a long way with oils — try just a drop or two at first to gauge how much you need to tame your locks.
5. Man up and make it a priority.
Do you find it difficult to carve out time for self-care? Do you find it tough to justify spending money on yourself for men's skin, hair, and beard care essentials? If you are letting your wellness take a backseat to other responsibilities, consider subtly hinting — or overtly proclaiming — to your loved ones you would appreciate self-care-inspired gifts. If you need ideas, how about Makes Scents Natural Spa Line's "Burly" line of men's products. 
Burly Buff

— Gently exfoliates with organic sugar, fights free radicals and nourishes skin with sunflower and safflower oils, detoxifies with orange peel and tea tree oils, and soothes muscular aches and pains with peppermint oil.

Burly Balm

— An intensely moisturizing body butter made with rich coconut oil and cocoa butter. Smells especially nice, too, with oils of cedarwood, peppermint, orange, and tea tree. 

Burly Beard & Hair Oil

— An easily absorbed and non-greasy formula that shows unruly beards and hair who's boss. Treats beards and hair with TLC while uplifting the senses with orange peel, peppermint, cedarwood, and tea tree essential oils.
BONUS TIP: Buy Burly 
Treat yourself or someone else to our Burly products — for Father's Day or any day. The time is always right for the gift of healthy skin and hair!