Minty Fresh Natural DIY Toothpaste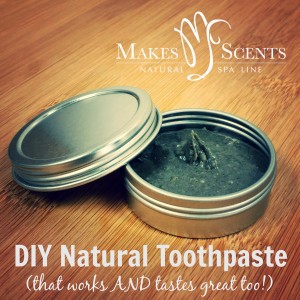 Have you ever read the ingredient list on toothpaste? If not, you may just want to. About a month or so ago I realized that shampoo and body wash are not the only body products that contain harmful sulfates (foaming agent). Toothpaste does too! How did I not know this??? Store-bought toothpaste, which typically contains fluoride, glycerin and sodium saccharin, is right up there on the list of personal care products that may not be the best for us. But why all the fuss? Here are three common ingredients found in toothpaste and why we should avoid them.
Glycerin: Forms a layer that blocks teeth from natural remineralization. Some studies have even indicated that it can take up to 20 brushings to remove the barrier that glycerin causes on teeth.
Fluoride: According to the National Research Council (2006), "it is apparent that fluorides have the ability to interfere with the functions of the brain." In a review of the research authorized by the US Environmental Protection Agency (EPA), fluoride has been listed among the 100 chemicals for which there is "substantial evidence of developmental neurotoxicity."
Sodium Saccharin: Sodium saccharin is the salt form of saccharin, an artificial sweetener. It contains 300 times the sweetening power of natural sugar. Due to the presence of sulfonamides, side effects of using this additive can include headache, difficulty breathing, the sudden appearance of a skin rash or hives and diarrhea. It has also been found that infants fed baby formula that contains sodium saccharin become irritable and can even cause muscle dysfunction.
Why Choose "Natural" for Your Pearly Whites?
Natural toothpaste that contains organic virgin coconut oil, clay, baking soda and essential oils can actually keep up with all the big claims of store brands without the added chemicals. Natural toothpaste has the ability to fend off all of those nasty germs that cause bad breath and plaque, helps to remineralize enamel naturally and leaves breath minty fresh too! So why not give it a try? Below you will find a simple and effective DIY recipe for natural toothpaste that our team has tested and given our Makes Scents Natural Spa Line stamp of approval!
DIY Natural Toothpaste Recipe
4 Tbs. Organic Virgin Coconut Oil
1 Tbs. Diatomaceous Earth (food grade)
1 Tbs. Calcium Bentonite Clay
2 Tbs. Baking Soda
1/2 tsp. Finely Ground Organic Stevia (dried herb)
15-30 drops Organic Peppermint or Spearmint Essential Oil
Directions: Add all ingredients to a small bowl and mix well (or use mortar and pestle). Store in a sealed container.
Directions  For Use:  Apply dime size amount to toothbrush and gently polish your pearly whites. Rinse with warm water.
Effects of Natural Toothpaste Ingredients

Coconut Oil: Contains Vitamin E, which acts as an antioxidant, and also has antibacterial and antifungal properties thanks to the lauric acid and monolaurin.
Bentonite Clay: Known to draw out heavy metals and toxins, is alkaline and full of minerals. Great for remineralizing teeth and for those with amalgam (silver) dental fillings!
Baking Soda: Whitens teeth and helps to remove plaque which contributes to tooth decay.
Stevia (Herb): Contains natural antibacterial properties and may even help to fight gingivitis, cavities, and suppress growth of plaque.
Peppermint Essential Oil: Contains natural antibacterial properties.
Tips
Try additional flavors by using other essential oils like mojito (lime and peppermint), cinnamon, orange or lemon. Yum!
To prevent coconut oil from building up in drains, dispose of excess toothpaste in wastebasket and rinse sink with hot water.
Store away from heat. Coconut oil melts at 70-74 degree Fahrenheit. Natural toothpaste containing coconut oil will soften and melt in the above temperatures.
Now it's time to hear from you! Have you tried natural toothpaste? And, if so, what are your thoughts on using it compared to store bought toothpaste?