(Not So) Random Acts of Kindness Day: We Are #TeamTori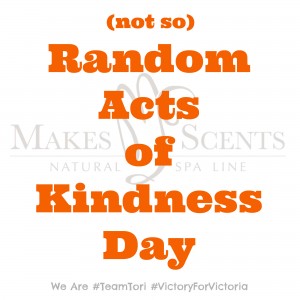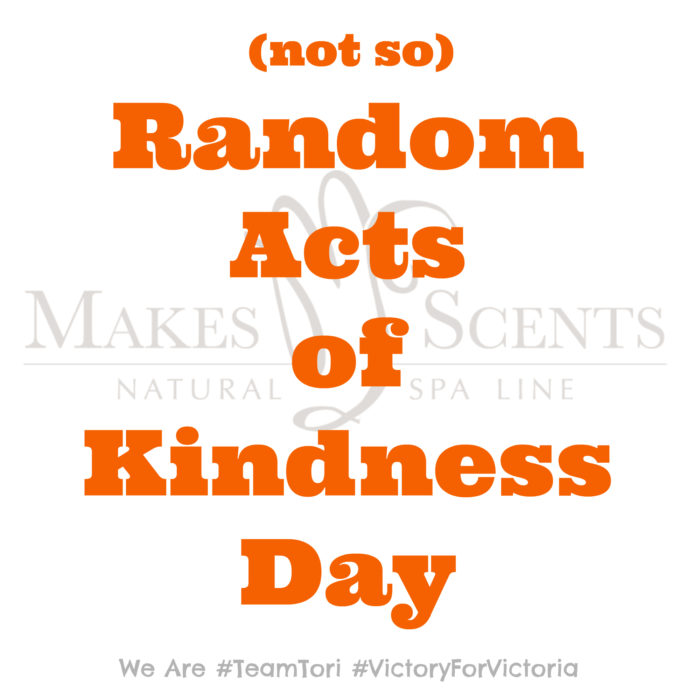 Today is Random Acts of Kindness Day. In the world we live in, sometimes we need this type of day to remind us that there are other things out there that are bigger than us. Because we live in a world of instant gratification, it is so easy to get wrapped up in me, myself, and I. We want what we want, when we want it. But does that form true happiness?
Mahatma Gandhi once said, "The best way to find yourself is to lose yourself in the service of others." Stepping outside of our "box of wants," and serving others, we believe, is the key to true happiness.
But then who are we to make such a statement?
Well, according to MRI findings, we're right on the mark! Thanks to MRI technology, researchers are able to observe brain activity when certain acts are pursued. One study focused on people involved in charitable giving showed that when people donated to a worthy cause, the midbrain region of their brains lit up. This area of the brain is responsible for our cravings and also pleasure rewards. The MRI findings identified a link between charitable giving and pleasure. So there truly is more happiness in giving than there is in receiving!
At Makes Scents Natural Spa Line, we are dedicated to caring for the environment and to doing our part to promote the wellness of our friends and neighbors near and far. On this special day of giving, we have decided to forgo the "random" part of Random Acts of Kindness Day and give to someone in our life who is very much in need. Recently, our dear friend and past colleague Brennan and his sweet wife, Lesa, found out their beautiful five-month-old daughter, Victoria (Tori) has Infantile Krabbe's (crab-bay) Disease. The average life expectancy is two years. There is no cure. On February 13, 2015, our dear friends were told their daughter is dying. Those words must be the absolute worst words you can hear as a parent.
Brennan and Lesa have held an extra special place our hearts. There aren't many people who truly understand what it feels like to struggle to conceive. As a couple they struggled just like Nathan and I did, heartbreak after heartbreak, month after month. However, their dream finally came true and beautiful Tori was born. Yet now they are faced with the inevitable. Sometimes things seem so unfair in life. To be blessed with a beautiful daughter only to find out that her little life will soon end is almost too much to bear. However, the faith and strength that Brennan and Lesa have is inspiring! They and their group of supporters have not given up. And we are here to support them in whatever way they see fit!
So, in honor of Tori, we have put together a fundraiser to help support and show them how much we care and love them. Starting today, February 17, 2015 through Saturday, February 21, 2015 we will be donating 50% of all online sales to the Brackbill family. This is our way of supporting a family that we love, and we hope our fundraiser can make a difference in the life of beautiful Tori. We love you Brennan, Lesa, and Tori! We are #teamtori! #victoryforvictoria
https://makesscentsspaline.com/shop/
All those placing orders online will be entered to win a gift collection of Makes Scents Natural Spa Line products valued at $80.00. You must be 18 years of age and a U.S. resident to be entered. A random winner will be announced on Monday, February 23, 2015 via our Makes Scents Natural Spa Line Facebook page.
For more information about our fundraiser, please visit our Facebook event, email us at info@MakesScentsSpaLine.com or call (717) 824-3094.
Heather, Nathan & The Makes Scents Natural Spa Line Team