Makes Scents Natural Spa Line Launches Juicy New Strawberry Product Line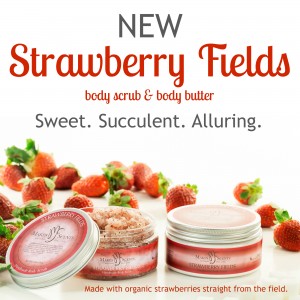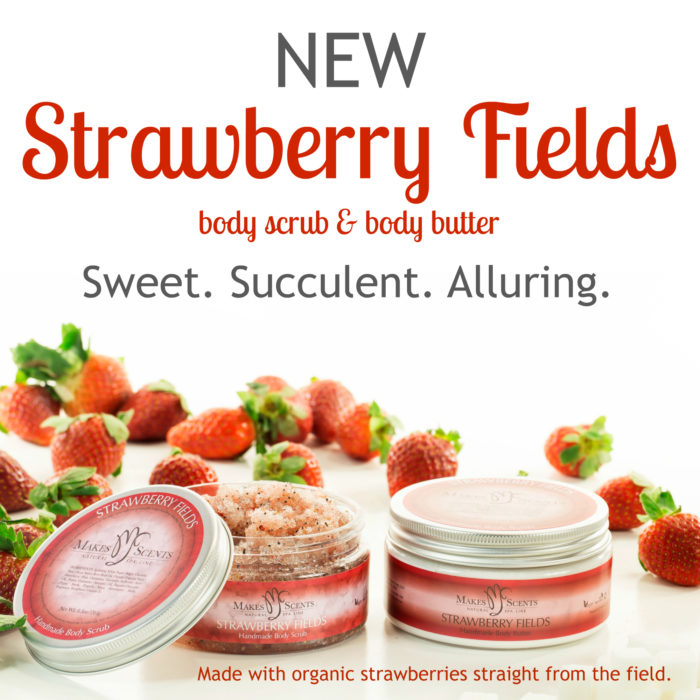 Lancaster, PA, February 24, 2015—Makes Scents Natural Spa Line, a Lancaster, PA-based creator of premium spa products, is pleased to announce the launch of its mouth-watering new Strawberry Fields product line.
Strawberry Fields Body Scrub and Strawberry Fields Body Butter exude the alluring sweet, succulent scent of freshly picked strawberries while pampering your skin with skin-protecting antioxidants, smoothing exfoliants, and moisturizing natural oils.
About Strawberry Fields Body Scrub
With a scent that's strawberry-jam sweet, this scrub will leave your skin glistening as it gently exfoliates with sparkling white sugar (which contains the natural alpha hydroxy acid, glycolic acid). Made with organic strawberries, strawberry seeds, and poppy seeds, this sugar scrub bursts with skin-rejuvenating goodness. It's also packed with vitamin C and polyphenols to help repair skin damage and fight signs of aging.
About Strawberry Fields Body Butter
This exceptionally rich and naturally fragrant whipped body butter is aloe-based (not water-based) and uses the hydrating goodness of strawberries to nourish skin. Blending sweet almond oil, coconut oil, and cocoa butter, Strawberry Fields Body Butter delivers intensive moisture to heal and condition skin for up to 24 hours.
Makes Scents Natural Spa Line's owner Heather Kreider shares, "In Lancaster County, we look forward to when the local farmers markets sell fresh strawberries in those cute little green containers—the scent of them is extraordinary. We're excited to introduce this new line of products that brings the luscious aroma and skin-renewing goodness of strawberries to retail customers and our spa partners no matter where they live and work."
For more information about Strawberry Fields Body Scrub and Strawberry Fields Body Butter or to place an order, visit the Makes Scents Natural Spa Line website at www.makesscentsspaline.com.
About Makes Scents Natural Spa Line
Makes Scents Natural Spa Line creates premium spa products made with high-quality combinations of all-natural ingredients to slough away dead skin cells and environmental toxins, and to purify, tone, and hydrate. In addition to its own branded products, the Lancaster, PA, company also custom creates signature lines for fine salons and spas across the United States. For more information, visit www.makesscentsspaline.com, email Info@MakesScentsSpaLine.com, or call (717) 824-3094.