Peppermint and Pumpkin and Spice Spa Treatments Oh My!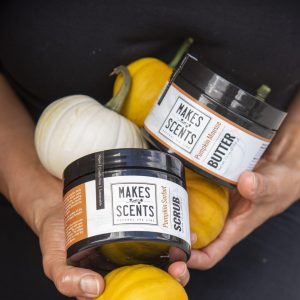 Once again, it is time to celebrate the fall and winter season with the wonderful aromas of some of our favorite nostalgic scents: peppermint, pumpkin and spice. Who doesn't look forward to that special peppermint hot chocolate, or that warm piece of grandma's pumpkin pie? But why does it need to stop at food? Can't we eat our pumpkin pie and envelop our bodies in the luxurious scent too?
Seasonal skincare products are not just a marketing ploy created by manufacturers; they actually work! Seasonal products not only work to melt stress away and leave skin smooth as silk but can also transport us back to a time from where warm memories abound. When it comes to peppermint, pumpkin and spice, they are pretty wonderful scents and, we hope they bring back wonderful memories and soft skin too!
Pumpkin
The great "pumpkin" is not just a seasonal "myth" but rather a highly effective skin care treatment. Naturally high in vitamin A (skin healing), C (anti-oxidant) and zinc, pumpkin renews the radiant luster your skin once had. Pumpkin also soothes sensitive skin, moisturizes and acts as a carrier, assisting other nourishing ingredients to absorb deeper into the skin, intensifying positive results. Spa services such as pumpkin enzyme peels for the face or pumpkin body scrubs and wraps result in softer, smoother and firmer looking skin.
Peppermint
Candy canes, peppermint bark, and peppermint mocha cappuccinos may be dancing in our heads but that isn't all the activity peppermint stirs up. Peppermint essential oil increases micro-circulation on the skin flushing away impurities and brightens the skin. Peppermint oil also contains menthol, which is a proven aid to digestion, provides sinus relief, helps relieve mental fatigue and is found to relieve nausea and headaches. In fact, current studies are being conducted in hospitals where peppermint essential oil is used to relieve nausea in post-surgical patients. Peppermint is not just for candy canes anymore!
Spice
During this time of year, warm, cozy and comfortable is very important in most people's eyes. Whether that warmth is from a crackling fireplace, a mug of hot mulled apple cider or your favorite fuzzy sweater, warm is what and where we want to be. Ironically, clove, cinnamon and nutmeg essential oils provide such warmth by increasing circulation and warming the skin. Nutmeg essential oil has also been found to naturally treat arthritis, fatigue, muscle aches and nausea, while clove essential oil relives minor aches and pains. Cinnamon oil contains antiseptic and antimicrobial properties which make it a wonderful natural skincare additive.
Spa vs Food
Whether we indulge in the many delectable foods of the season or we treat our bodies to seasonal skincare products and spa services, enjoy the season and all its wonderful scents! Yes, you can have your pumpkin pie and treat your skin with it too!
For more information on seasonal scents such as Pumpkin Sorbet, Apple Spice, Cranberry & Soy Chutney or Mocha Mint Cappuccino body treatments for at home, please visit our online store or our website.