Body Care Products With Pumpkin, Peppermint, and Spice — So Nice!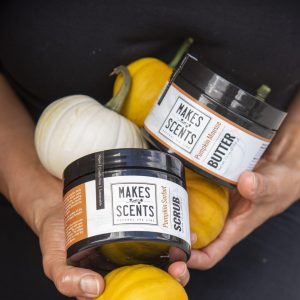 The fall and winter seasons are approaching, bringing with them the nostalgic aromas and flavors of pumpkin spice and peppermint. Who doesn't look forward to a piping hot mug of peppermint hot chocolate and a warm slice of grandma's pumpkin pie? But the appeal doesn't stop there! Pumpkin, autumn spices, and peppermint are popular in cold-weather skincare products — for good reason! 
Pumpkin Skin Benefits
Naturally high in vitamin A, vitamin C, and zinc, pumpkin has antioxidant and restorative properties to renew the skin's radiant luster. Pumpkin's natural alpha-hydroxy acids gently exfoliate the skin and enable it to absorb other moisturizing ingredients more effectively. Pumpkin also contains omega fatty acids, which help repair the skin barrier, smooth the skin's surface, and soothe sensitive skin.
Cinnamon and Clove Oil in Skincare
And what goes better with pumpkin than autumn spices? Reach for seasonal skincare products that feature warming spices like cinnamon and clove. 
Both cinnamon essential oil and clove essential oil have anti-inflammatory and analgesic properties. They are known for helping to reduce minor pain, muscle soreness, and puffiness. Also, thanks to their high concentration of the natural plant compound eugenol, cinnamon and clove oils contain antibacterial and antimicrobial properties, which can help keep germs at bay. 
Peppermint Benefits for Skin
Candy canes, peppermint bark, and peppermint mocha cappuccinos will all be visions dancing in our heads soon. But peppermint has more going for it than its tempting taste; it's a rock star in skincare products, too. Peppermint essential oil increases micro-circulation, flushing away impurities and brightening the skin. Rich in the natural compound menthol, peppermint oil provides a cooling sensation on the skin and helps relieve minor muscle and joint aches and pains. And can we talk about peppermint's uplifting scent for a moment? Body care products infused with pure peppermint essential oil can help boost energy, clear nasal passages, and lift your mood. 
Ready to Level Up Your Fall and Winter Skincare Routine?
Look for all-natural, vegan, cruelty-free skincare products with the ingredients we featured in this article. We recommend a scrub for exfoliating two to three times weekly and body butter for daily moisturizing.
Consider these duos:
If you have questions about choosing products or how to use them for optimal benefits, we're just a phone call or email away!
Treat your skin right this fall! Shop now!