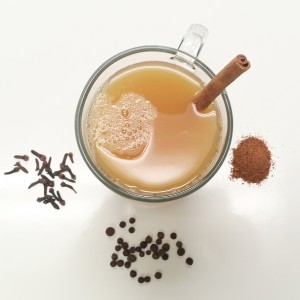 Winter is upon! For us that means snuggling up with a good book under a soft blanket and sipping a warm delicious beverage. For the past few weeks, we've been on the search for tasty winter-themed beverages to test out and share with you. We look for drinks that include some of our favorite ingredients that we incorporate into our products here at Makes Scents Natural Spa Line. Ingredients such as orange peel, honey, cloves, cinnamon and ginger. We have to say, this recipe includes all of them and is one of our favorites so far!
Check out our version of warm mulled cider below and give it a try. We just know you'll love it as much as we do!
Warm Mulled Cider Recipe
Serves 6
Prep Time: 5 minutes
Total Time: 35 minutes
Ingredients
1 naval orange
1/2 gallon apple cider (not juice)
2 Tbs. Honey or Agave Nectar (for vegan version)
5 whole allspice Berries
6 whole Cloves
1/4 tsp ground nutmeg
1 1/2-inch piece fresh gingers, peels and thinly sliced
6 cinnamon sticks
Directions
Wash orange, dry and peel zest from orange into long strips using a vegetable peeler. Then cut remaining orange into large pieces.
Combine all ingredients into medium pot and bring to a simmer (do not boil). Heat uncovered for 30 minutes.
Strain using a metal sieve. Press orange pieces into sieve squeezing juice from orange into cider. Stir cider well.
Ladle into cups and serve warm with the cinnamon sticks.
We want to hear from you! What are your favorite cold-weather drinks? Share your favorite recipes with us below for your chance at becoming one of our recipes highlighted on our blog!
Looking for winter-themed treatments for your skin, similar to the recipe above? Check out our website for all our seasonal favorites!